Update Center for Free SQL Developer Extensions
Philipp Salvisberg, 2 Jahren ago
2 min

read
1056
This post was originally published on this site
Introduction
In July 2017 Oracle announced to release updates for SQL Developer on a quarterly basis. Installing multiple versions of SQL Developer on the same machine is not a problem. Therefore many developers install a new version as soon as it becomes available. On the first start SQL Developer offers to import the settings of the previous version. This works quite well for most settings. However, all third-party extensions must be installed manually afterwards. This is a cumbersome and boring task.
Hence, I decided to provide an Update Center containing freely available SQL Developer extensions to speed up the configuration of a new SQL Developer installation.
What's an Update Center?
It's just an XML file. It contains information about SQL Developer extensions. Essentially their names, versions, and download locations. I maintain this file in a dedicated GitHub repository. You can configure the Update Center in SQL Developer. This makes it easier to install many extensions. SQL Developer also checks for updates and notifies you when they are available.
What Extensions are Supported?
The Update Center contains the following SQL Developer extensions:
If you miss your favorite free extension, please open an issue on GitHub.
Configure Update Center
Click the Help menu and select Check for Updates…. Press the Add button to register the update center http://update.salvis.com/.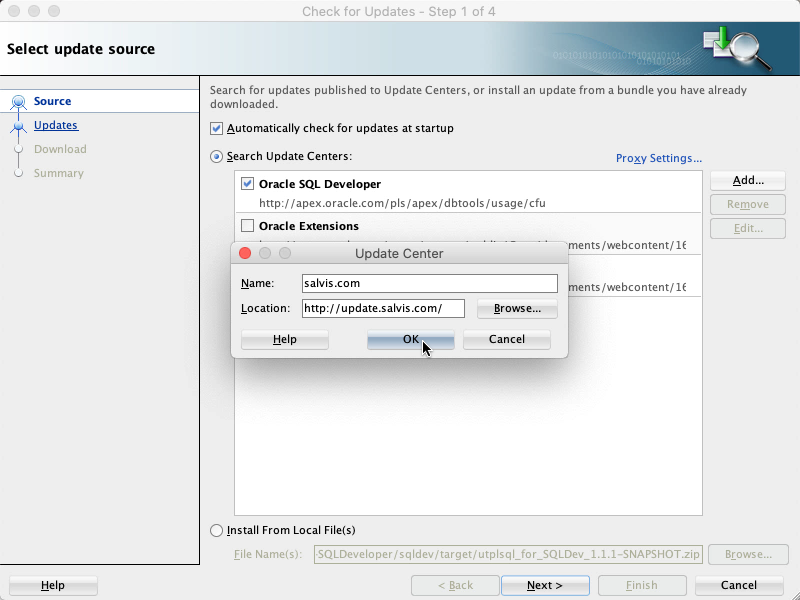 Then press Next > to show the available updates. Select the updates you want and press Next > to start the download process.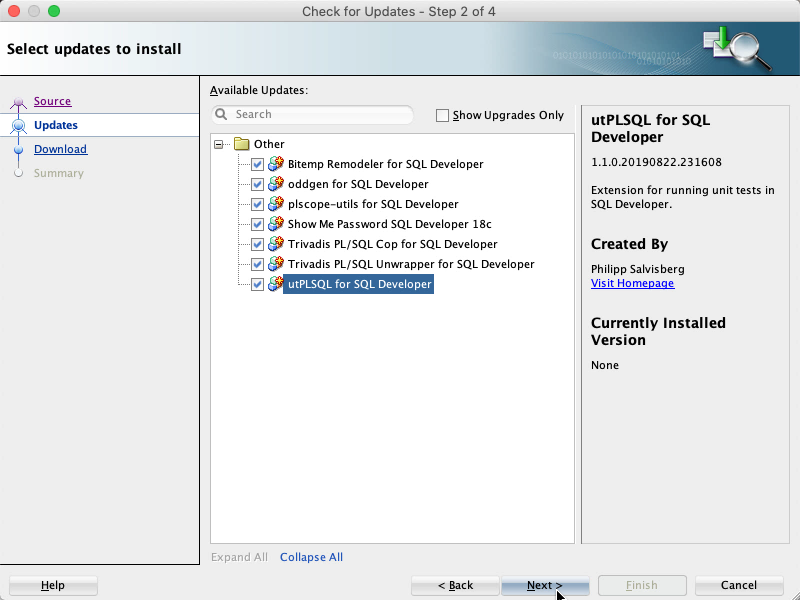 Wait until all updates are downloaded and press Finish. Finally, restart SQL Developer to install the downloaded updates.
Summary
A GitHub repository for a 90-line XML file seems ridiculous. However, I install SQL Developer in several environments. On my Mac, on machines of my customers and also in some VMs. This update site will certainly help me. I hope you find it useful too.
Related posts